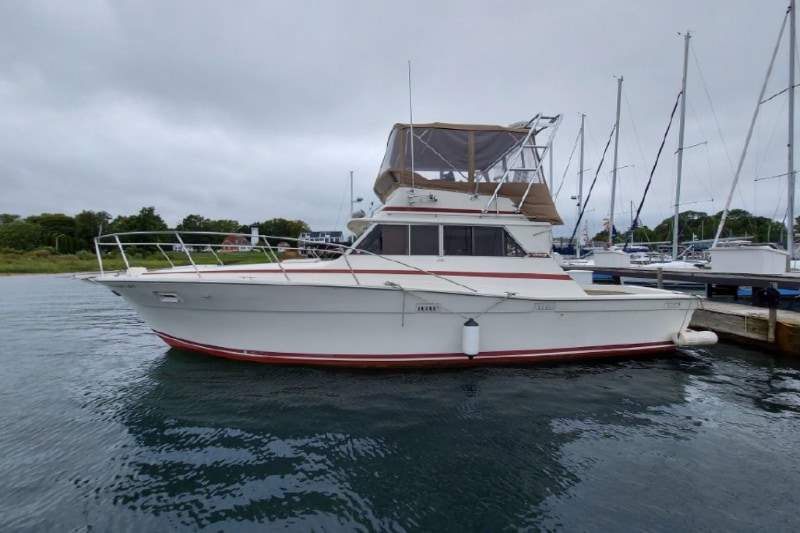 1979 Viking 35 Convertible
All boat showing are by appointment only.
Please contact our broker to schedule. Contact Us About This Yacht
Specifications
Make: Viking
Model: 35 Convertible
Year: 1979
Name: Strings Attached
Length: 35ft
Class: Cruiser
Hull Material: Fiberglass
Beam: 13ft 1 in
Boat Location: Port Sanilac, Michigan, United States
Fuel Type: Gas/Petrol
Introducing the Timeless Classic: The 1979 Viking 35 Convertible Powerboat
Step back in time to an era of unparalleled craftsmanship and enduring style with the 1979 Viking 35 Convertible powerboat. This vintage beauty has stood the test of time, offering the perfect blend of performance, comfort, and timeless design.
Classic Elegance: The Viking 35 Convertible exudes classic charm with its sleek lines, solid construction, and attention to detail. Crafted with precision and an unwavering commitment to quality, this boat is a testament to the art of boatbuilding.
Smooth Sailing: Experience the thrill of cruising the open waters with confidence. The 1979 Viking 35 Convertible boasts powerful yet reliable engines that provide a smooth and efficient ride, ensuring you can explore new horizons without a worry.
Spacious Comfort: Whether you're seeking a weekend getaway or a day on the water with family and friends, this powerboat offers a spacious and comfortable interior. The well-appointed cabin features plush seating, a galley, and all the amenities you need for an enjoyable journey.
Nautical Nostalgia: Owning a 1979 Viking 35 Convertible isn't just about owning a boat; it's about owning a piece of maritime history. Embrace the nostalgia and prestige that comes with being at the helm of this iconic vessel.
Timeless Investment: Vintage boats like the Viking 35 Convertible have an enduring appeal and can be a smart investment. Whether you're a collector or a seasoned mariner, this powerboat offers a unique opportunity to own a piece of the past while making memories for the future.
Don't miss your chance to own a true classic. The 1979 Viking 35 Convertible powerboat combines elegance, performance, and nostalgia in a way that's truly unmatched. Discover the allure of this vintage gem and embark on a journey that captures the essence of a bygone era, all while making new memories on the water. Act now and set sail on a timeless adventure with the Viking 35 Convertible.